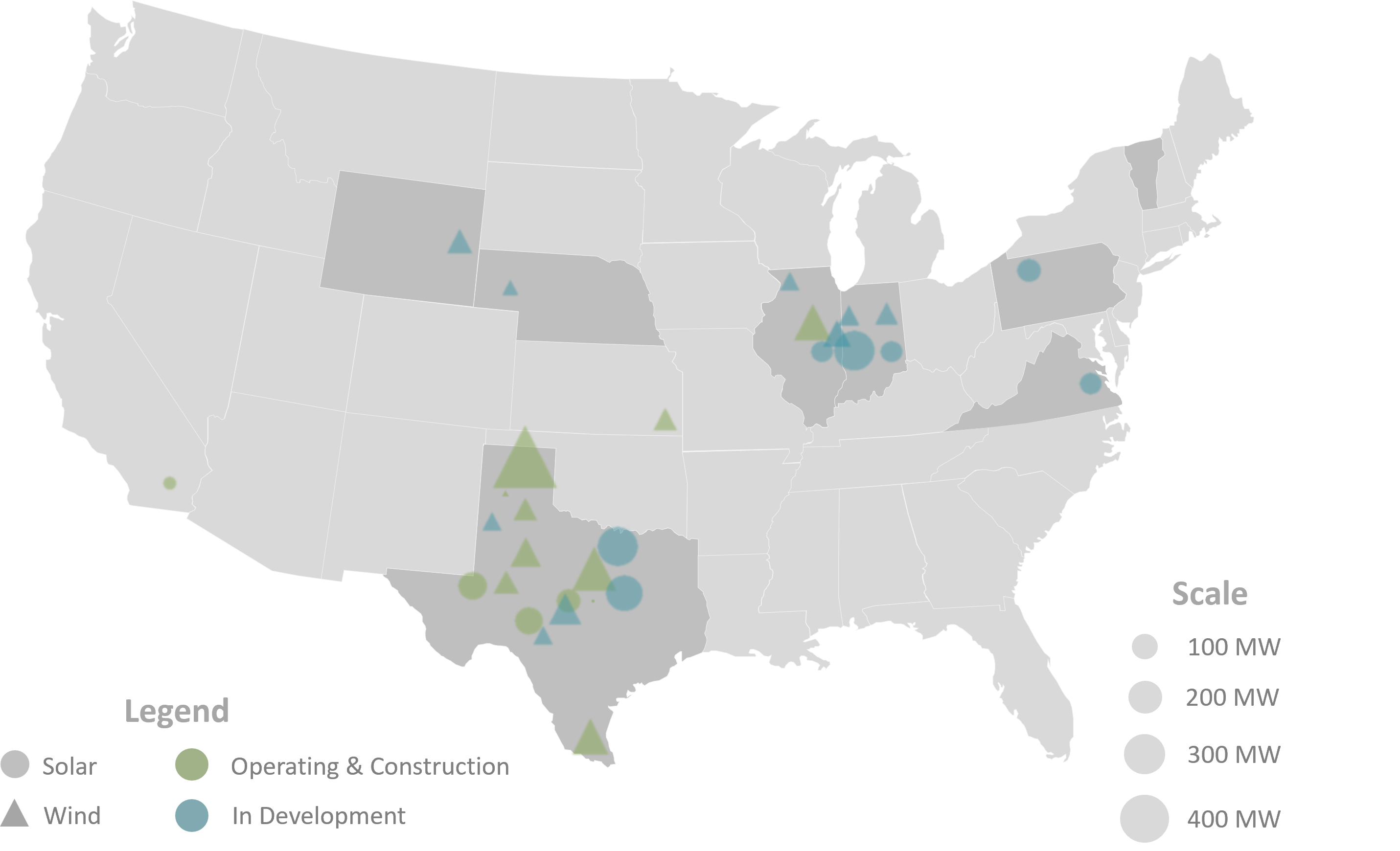 | Property | Location | Originator | Energy Type | Owner | RTO | Facility Size (MW) | Status | Royalty Basis | Expected COD | Royalty Rate |
| --- | --- | --- | --- | --- | --- | --- | --- | --- | --- | --- |
| Clyde River | Great Bay | Vermont | Hydro | Gravity Renewables | ISO New England | 5 | Operational | Operational | Completed | 10% of revenue |
| Prospero 2 | Longroad Energy | Texas | Solar | Longroad Energy | ERCOT | 250 | Operational | Operational | Completed | Variable |
| Old Settler | Northleaf Capital | Texas | Wind | Northleaf Capital | ERCOT | 150 | Operational | Operational | Completed | Variable |
| Cotton Plains | Northleaf Capital | Texas | Wind | Northleaf Capital | ERCOT | 50 | Operational | Operational | Completed | Variable |
| Phantom | Northleaf Capital | Texas | Solar | Northleaf Capital | DND | 15 | Operational | Operational | Completed | Variable |
| Titan Solar | Sunpin | California | Solar | Longroad Energy | CAISO | 70 | Operational | Operational | Completed | Variable |
| Hansford County Wind | Apex | Texas | Wind | TBA | SPP | 658 | Operational | Operational | Completed | Fixed |
| Jayhawk | Apex | Kansas | Wind | WEC Energy / Invenergy | SPP | 195 | Operational | Operational | Completed | 2.5% of revenue |
| Young Wind | Apex | Texas | Wind | NextEra Energy | ERCOT | 500 | Operational | Operational | Completed | 2.5% of revenue |
| Appaloosa | TGE | Texas | Wind | NextEra Energy | ERCOT | 175 | Operational | Operational | Completed | 1.5% of revenue |
| El Sauz | Apex | Texas | Wind | JERA Renewables | ERCOT | 300 | Construction | Development | Q4 2023 | 2.5% of revenue |
| Cadillac Solar El Dorado | TGE | Texas | Solar | Enbridge | ERCOT | 400 | Development | Development | 2025 | 1.5% of Revenue |
| Vermillion Grove | TGE | Illinois | Wind | Enbridge | PJM | 255 | Development | Development | 2024 | 3% of Revenue |
| Lawrence Solar | TGE | Pennsylvania | Solar | Enbridge | PJM | 175 | Development | Development | 2024 | 1.5% of Revenue |
| Water Valley | TGE | Texas | Wind | Enbridge | ERCOT | 150 | Development | Development | 2026 | 3% of Revenue |
| Blackford Wind | TGE | Indiana | Wind | Leeward | PJM | 200 | Development | Development | 2024 | 3% of revenue |
| Blackford Solar | TGE | Indiana | Solar | Leeward | PJM | 150 | Development | Development | 2024 | 1.5% of revenue |
| Canyon | TGE | Texas | Wind | TBA | ERCOT | 360 | Development | Development | 2024 | 2-3% of revenue* |
| Panther Grove 1 | TGE | Illinois | Wind | Copenhagen Infrastructure Partner | PJM | 400 | Development | Development | 2024+ | 3% of revenue |
| Honey Creek | TGE | Indiana | Solar | Leeward | PJM | 400 | Development | Development | 2024 | 1.5% of revenue |
| Hoosier Line | TGE | Indiana | Wind | Leeward | PJM | 180 | Development | Development | 2024+ | 3% of revenue |
| Cadillac Solar Deville | TGE | Texas | Solar | Enbridge | ERCOT | 350 | Development | Development | 2025 | 1.5% of Revenue |
| Shannon | TGE | Illinois | Wind | Enbridge | PJM | 150 | Development | Development | 2024+ | 3% of Revenue |
| Gloucester Solar | TGE | Virginia | Solar | Enbridge | PJM | 150 | Development | Development | 2024+ | 1.5% of Revenue |
| Vermillion Solar | TGE | Illinois | Solar | Enbridge | PJM | 150 | Development | Development | 2024+ | 1.5% of Revenue |
| Sugar Loaf | TGE | Nebraska | Wind | Enbridge | SPP | 150 | Development | Development | 2024+ | 3% of Revenue |
| Wyoming I | TGE | Wyoming | Wind | Enbridge | WECC | 250 | Development | Development | 2025 | 3% of Revenue |
| Easter Project | TGE | Texas | Wind | Enbridge | SPP | 300 | Development | Development | 2025 | 3% of Revenue |
| Flatland | TGE | Texas | Solar | TBA | ERCOT | 180 | Development | Development | 2025 | 1.5% of revenue equiv* |
| Cone/Crosby III | TGE | Texas | Wind | Enbridge | SPP | 300 | Development | Development | 2025 | 3% of Revenue |
| 3 Early Stage TGE Projects | TGE | Western U.S. | Solar | Enbridge | | 1011 | Development | | TBA | 1.5% of Revenue |
FOOTNOTES
Note: Sum of wind and solar early-stage development projects related to Enbridge acquisition is 15 compared to 17 referenced in the Material Change Report filed Oct 5 2022 (see SEDAR) because of two multi-phase projects.
1. Commercial Operations Date (COD) estimated from public information, project originators and project owners. Dates are subject to change.
2. Royalties with variable rates adjust under certain conditions, guaranteeing a minimum return threshold under certain timelines, after which a lower royalty percentage is applied.
3. While Old Settler Wind Project, Cotton Plains Wind Project, and Phantom Solar Project are three separate projects, GBR's investment was under one agreement, which includes the three projects as a single portfolio.
4. Fixed Rate per MWh, see Press Release dated 12/20/2022.
5. Source: ERCOT
6. Flatland fixed payments equivalent to 1.5%; see ARR press release 29/06/2022.
7. Facility size may be completed in phases.
8. Canyon sliding scale royalty between 2-3%, see ARR press release 29/06/2022.
9. Project may be converted to solar.
10. Developer TGE was acquired by Enbridge, see press release on 29/09/2022.
11. Expected COD based on Enbridge press release on 29/09/2022.
Our Partners
Tri Global Energy
Through GBR, ARR first invested in Tri Global Energy ("TGE"), the premier Texas-based renewable energy developer, in February 2019. GBR's current $46.5 million royalty investment is structured in a way that as TGE sells projects from their large portfolio of development projects, a gross-revenue royalty agreement is distributed to GBR on the specific wind and solar projects as they are developed and sold. Additional royalty agreements will continue to be created at the time projects are sold or begin construction until a certain return threshold is achieved. Wind and solar projects with royalties payable to GBR will continue to generate cashflow for the life of these projects.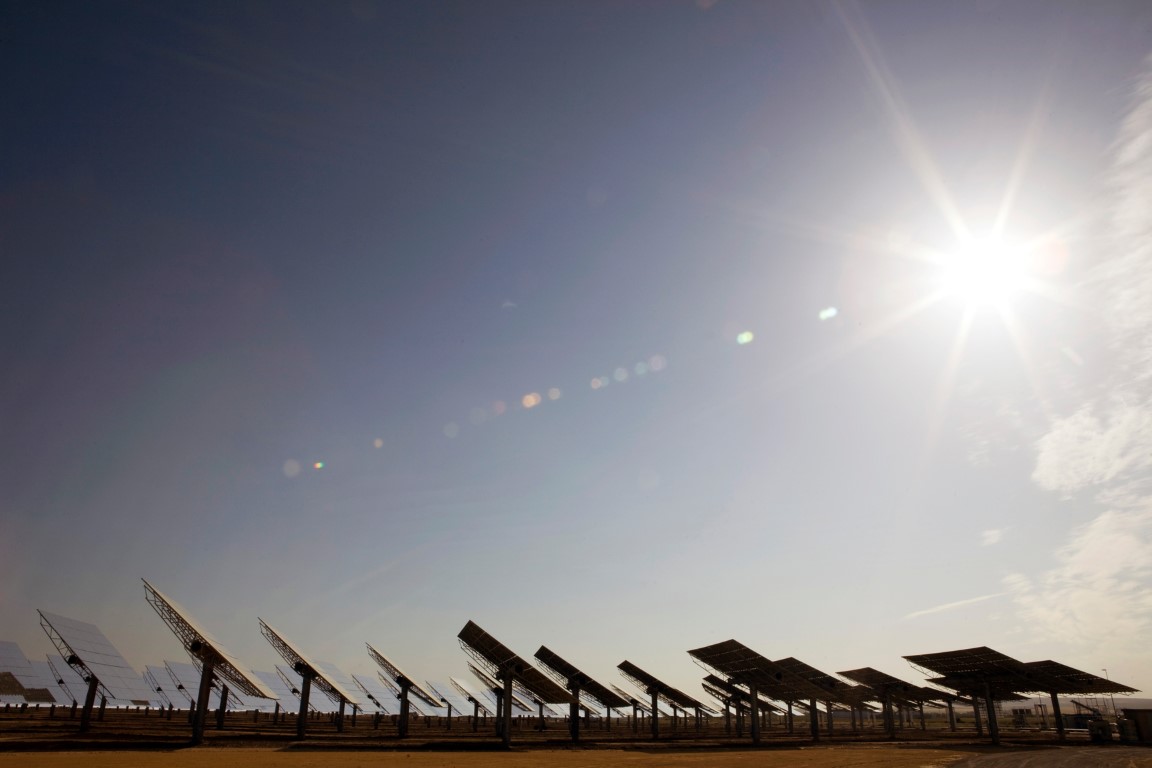 In October 2022, TGE was acquired by Enbridge Inc. Following the acquisition, GBR will continue to receive royalty contracts from projects in TGE's current development pipeline until it hits its threshold return on its investment in TGE, with no further funding by GBR. After GBR receives enough royalty contracts for it to achieve its threshold return, it will have the option to acquire royalty agreements on remaining projects that are developed from TGE's currently existing portfolio using an agreed-upon methodology that utilizes a similar return profile as for project royalties created prior to the threshold return being achieved.
‍
To date, GBR holds royalty interests in 23 TGE-developed renewable projects ranging from 100 MW to 400 MW of capacity across the United States. Estimated COD dates are between Q4 2023 and 2028.
Northleaf Capital Partners
In Q3 2021, GBR closed a US$52.5 million royalty investment with Northleaf Capital Partners on three operating wind and solar projects, all in Texas. The portfolio includes the 151 MW Old Settler wind project, the 50 MW Cotton Plains wind project and the 15 MW Phantom Solar project, with the Old Settler output being sold into the ERCOT market, and the others being sold under fixed-price contracts with the US Department of Defense through 2045.
Longroad Energy
In Q3 2021, GBR closed a US$35M royalty investment with Longroad Energy on the 250MWac operating solar project in Texas, Prospero 2.GBR expects to earn a return of 8-12% on its investment, with royalty revenue starting at a lower level from 2022 – 2027 and then increasing materially.
In December 2022, GBR entered into another transaction with Longroad Energy, acquiring a royalty on Titan Solar, an operating solar project in California.
Bluestar Energy Corporation
In Q2 2022, GBR closed a US$32.5M investment into anew global renewables development platform, Bluestar Energy Capital LLC founded by Declan Flanagan, former CEO of Orsted Onshore and Lincoln Clean Energy.
Hodson Energy
In Q3 2022, GBR closed a US$40 million investment into Hodson Energy's 1.8 MWac solar and battery storage portfolio which is concentrated in the mid-Atlantic region.
Hexagon Energy
In June 2023, GBR committed to invest US$45 million into Hexagon Energy, LLC, which is committing its portfolio of 43 development projects totalling 5.3 GWac located across 12 states and four regional transmission organizations. The projects are solar, solar plus storage and standalone storage.